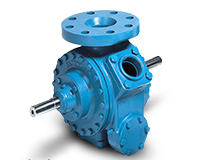 BIG GROUP Liquid Carbon Dioxide - Loading & Unloading Pumps provide critical flow solutions.
A specialised kind of Cryogenic pumps rae used for Loading & Unloading of the Liquid Carbon dioxide content from lorry mounted vehicles to CO2 storage tank or Vice – Versa.
Industrial & Process Sliding Vane Pumps
The Liquid Carbon di oxide being cryogenic in nature could not be handled through naked hand, and become very difficult to handle & manage. BIG Group pumps are available in compatible materials with shaft sealing and seal-less options that make them the products of choice for many process applications.
Applications
Liquid Carbon Di oxide
General chemicals
Acids
Paints, inks and coatings
Solvents
Refrigerants
Diesel Exhaust Fluid (DEF)
Technical Data
Cast iron, ductile iron and stainless steel models available
Sizes: 19mm (3/4 in.) to 254mm (10 in.)
Max. working pressures: 17.2 bar (250 psi)
Max. temperatures: 266° C (500° F)
Viscosities to >21,000 cSt (100,000 SSU)
Motor speed and gear reducer drives
Performance Data
Max. flow: 8,404 L/min (2,220 gpm)
Max. differential pressure: 13.8 bar (200 psi)
Features & Benefits
Designed for specific process and transfer applications
Highly efficient sliding vane technology
Self-adjusting vanes sustain performance
Self-priming, line stripping and dry-run capabilities
Ideal for thin or non-lubricating, viscous, abrasive and shear-sensitive fluids
Seal-less and mechanically sealed designs available
Reduced energy consumption
Reduced costs
Sustained performance
Consistent flow
Handles thin or non-lubricating, viscous, abrasive and shear-sensitive fluids
High volumetric efficiency