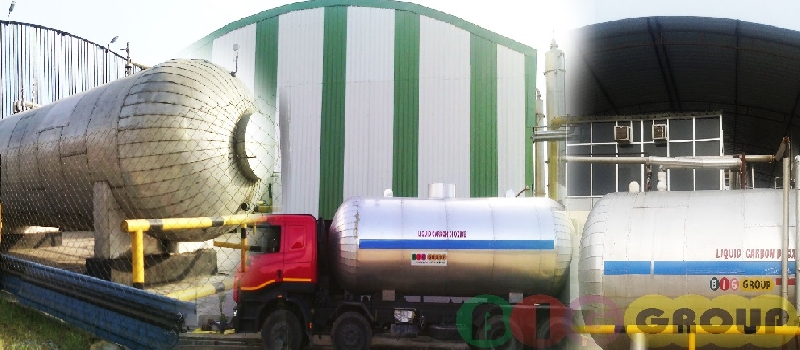 BIG Group designs and manufacturers state of art storage tanks and Road tankers for Liquid Carbon Dioxide. Our storage tanks and Mobile tankers are in tune to the Food & Beverage industry and are widely used in major beverages and breweries. We manufacture storage tanks from 2 MT to 200 MT and transport tanks from 7 MT to 26 MT.

Advantages
Entirely secure for CO2 storage in bulk.
Fabricated from best and low temperature steel.
The construction procedure of these tanks is duly checked by internationally sanctioned inspection agencies.
Valves & fittings are approved by controller of explosives.
Designed with advanced safety devices, insulators and refrigerants which prevent the loss of gas by evaporation and liquid CO2.
Refrigeration system is checked logically and it maintains the temperature inside the tank.
Our range of products include Horizontal CO2 Storage Tank custom designed as per customer needs & requirements mainly made up of MS material. The Capacity of the storage tanks varies from 2 ton to 200 tons as per requirement. Design Pressure 30 kg/cm2, Insulation thickness will be 200 mm. The storage tanks are properly designed to meet the today's needs & requirement with having facility of Vapour inlet & Outlet operation, Liquid inlet & outlet operation with level gauge, Pressure gauge & Temperature monitoring. Additional Vaporisers can be installed as per customer's requirement.
BIG GROUP lorry mounted CO2 tankers are constructed in different capabilities to make them worthy for the existing chassis. The insulation of (Poly Urethane) in these tankers is of higher thickness's as they require no refrigeration system. Also, low temperature steel is carefully chosen for the material of construction. After insulation, aluminium cladding is exercised. Further, the tanker is furnished with desirable piping system on which inlet-outlet pressure gauges, safety valves and other safety and approved fittings are mounted up. To accommodate local condition of explosives directorate, the required chassis adjustments can also be done. The manufacturing and drawings are sanctioned and monitored by international inspection offices. We can attempt following qualifications on the chassis, like barrier around the tank, height barrier, rear red light, modification in the position of battery and rear bumper.
| | |
| --- | --- |
| Test pressure | Up to 30 kg/cm2 |
| Material | Low temp. steel |
| Temperature range | +20 to -50oC |
| Capacity range | 1 to 500 tons |
| Operating pressure | 22/g/cm2 |